Furlough: Is Europe leaving Britain behind?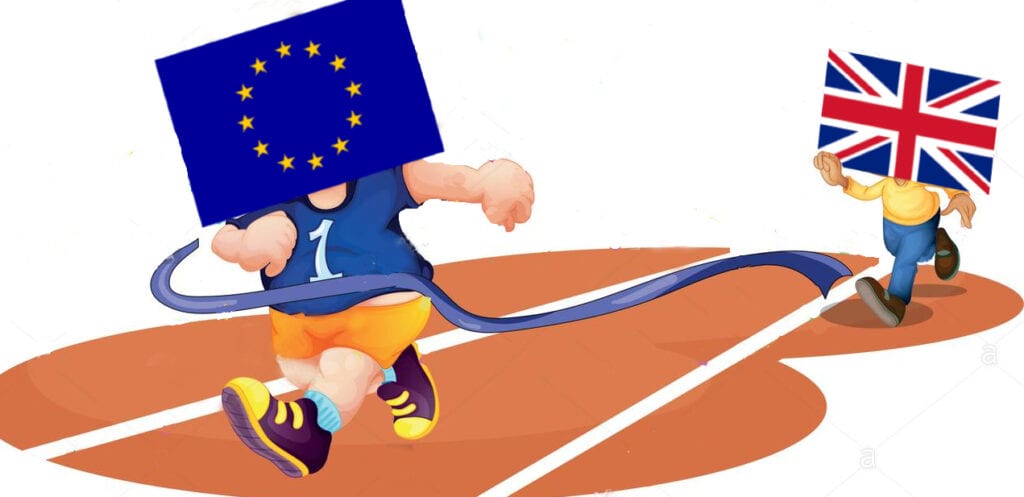 UPDATE 29/05/2020 : PART TIME FURLOUGH WILL BE INTRODUCED FROM JULY 2020 NOT AUGUST 2020 AS PREVIOUSLY ANNOUNCED WE HAVE UPDATED THIS BLOG ACCORDINGLY.
The UK government has announced the extension of the Coronavirus Jobs Retention Scheme (CJRS) to October 2020.  As part of this announcement, the Chancellor, Rishi Sunak, also announced that from July employers would be able to employ their staff part time and to use the CJRS to top up their wages to a minimum of 80% of their normal earnings capped at £2,500. Further details will be provided at the end of May 2020. The question however is why is this particular provision being introduced in July 2020 and not immediately? The fact is our continental neighbours, have from the outset of the Covid 19 crisis incorporated part time furlough (the link is in French but Google translate does a good job) as part of their handling of the Pandemic. It is therefore odd, to say the least, that the UK has failed to do likewise.
Once you have ploughed your way through the Government's badly mixed messaging of the past few weeks, it is clear that they wish to see the economy restarting while ensuring that doing so does not trigger an uncontrolled increase in Covid-19 infections.
Part time furlough seems to be an ideal solution for the current state of play. It would help prevent an uncontrolled increase in Covid-19, it reduces the CJRS costs to tax payers, it would incentivise businesses to resume some activity rather than remain shut and it would assist employees' mental health.
Few businesses are going to be able to return to normal operation immediately; social distancing measures and a general unwillingness by the population in general to expose themselves to the risk of Covid-19 are likely to see a lengthy return to anything like normal business levels.
In particular, for the retail and hospitality industries, footfall is going to be markedly reduced for some time to come as social distancing limits the number of customers, and staff, that businesses can safely accommodate.
Such circumstances are almost certainly going to lead to reduced working hours, or a reduced staff requirement, which the current furlough scheme is not best placed to address. Until the changes promised in July materialise, furlough is an on-off switch – you are either working or you aren't.
Currently businesses wishing to operate on a reduced staffing level need to choose which staff to bring back and which to leave on furlough. Until part time furlough comes into operation, it will make more sense for small employers to remain shut rather than lose the CJRS.
As an illustration, we are dealing with a hotel wishing to operate a take away service. Currently its kitchen staff, who would normally work 30 hours per week, are on furlough receiving 80% of their salary. To operate its take away service, it will need four members of staff working 20 hours per week. Our client is not able to increase the hourly rate to match the furlough pay. The current system forces our client to take its staff off furlough at a substantially reduced pay or remain closed.
From an employment law perspective, this exposes our client to claims of breach of contract, constructive dismissal, dismissal or detriment on health and safety grounds and discrimination.
Part time furlough would enable them to secure their employees' agreement, reduce the CJRS costs to the tax payer, increase the chance of survival of their business long term and allow their staff to maintain their sanity and skills.
With more details on the forthcoming changes due from the Treasury at the end of this month, we may learn more of the reasoning behind the currently proposed timing of these modifications, however the question remains – why not now?
If you would like to discuss furlough or return to work, we would be delighted to speak to you.
For more specific information or to discuss your requirements please call either Amanda Galashan or Julie Calleux at Employease on 03339398741, or email us at info@employease.co.uk. This note does not constitute legal advice on any particular situation you may have.
Copyright: Employease 2020